About MUNel System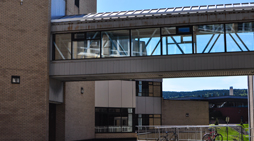 A chain of indoor tunnels gives you a quick and easy access to MUN buildings including to housing (Paton College). The tunnels are located in the basement of the building with clear signboards to guide you. All you have to do is to follow the colored line. The buildings are labeled by color i.e. orange, yellow, blue, and green. For instance, if you are in the University Centre and wish to go to the library, you just need to follow the green line.
Skywalks are offered to pedestrian to get around MUN conveniently and safely. The bridges are mostly covered and that gives more protection from the weather. The skywalks interlinks one building with another and is accessible in some of the buildings such as University Centre, Science, Arts & Admin, Earth Sciences, Chemistry-Physics, Aquarena, Field House, Bruneau Centre for Innovation and Research.
For instance:

On the 2nd floor of Bruneau Centre for Innovation and Research (formerly known as INCO Innovation Centre), there is a skywalk leading into Arts & Administration or Science Building.