About Newfoundland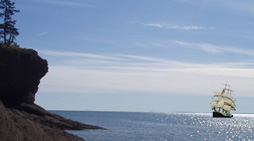 Newfoundland and Labrador is situated on the north eastern corner of North America and it is surrounded by the Atlantic Ocean. It is a maritime province as it shares many cultural resemblances with Nova Scotia, New Brunswick, and Prince Edward Island. Newfoundland has its own time zone, known as Newfoundland Time (NT).
In addition, Newfoundland has an abundance of touring routes, national historic sites, provincial historic sites, art galleries, lighthouses, museums and parks. For instance, the touring routes in Newfoundland are Discovery Trail (230 km), Cape Shore (303 km), and Exploits Valley (534 km). Also, the three famous national parks in Newfoundland are Gros Morne National Park, Torngat Mountains National Park, and Terra Nova National Park.
This province has a population of 510,000 and the people are well-known for friendliness and hospitality. Below, you will find a brief description about the weather and climate of Newfoundland and Labrador as well as the activities that can be done throughout the seasons.
St. John's is the capital city in Newfoundland and Labrador with a population of 192,326. It is the oldest and most easterly city in North America. This historic city is very rich in culture and it is surrounded by beautiful landscapes and wildlife. The city offers so many attractions, accommodations, and adventures such as hiking, hunting, whale watching, and iceberg viewing.
Spring (April - May): Though it tends to arrive a little later, spring in Newfoundland and Labrador comes with an entourage of icebergs and whales that's well worth the wait. Take a boat tour or spot bergs from the shore. Either way, dress in warm layers, prepare for a shower or two, and bring your camera.
Summer (June - August): Summer is perfect for all kinds of outdoor activities, whether it's strolling through old city streets or hiking somewhere slightly off the beaten path. Cast a line and experience some of the world's best fishing, take a boat tour to catch a glimpse of whales and icebergs around the coastline, or enjoy one of the many summer music festivals and cultural events. While the temperature frequently reaches shorts and T-shirt weather, the fresh ocean air is bound to keep you cool.
Fall (September - October): A crisper version of summer, fall is hiking season in Newfoundland and Labrador. Golf courses are still in full swing, and campers continue to flock to the National Parks to enjoy the fall foliage. Evenings can be chilly so layers are a good idea.
Winter (November - March): This season comes with generous amounts of fresh powder. Skiing and snowboarding, as well as snowshoeing and snowmobiling are all very popular, and best enjoyed with plenty of warm clothes. Winter is also a great time to unwind at a romantic B&B, relax at the spa, experience fine dining by the fire, and treat yourself to a shopping excursion.
(adapted from newfoundlandlabrador.com)