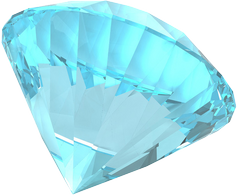 Sagittarius Birthstone:
Topaz is the November Birthstone and the Sagittarius Zodiac stone. Blue topaz has been considered a valid alternate birthstone for December, and is given on the 4th anniversary. Golden topaz is given on the 23rd anniversary. Topaz is associated with the values of strength, wisdom, and courage.
Topaz is a common gemstone that has been used for centuries in jewelry. Its golden brown to yellow color is classic but is confused with the less valuable citrine, which is sometimes wrongly sold under the name topaz. The blue topaz that is often confused with aquamarine is rarely natural and is produced by irradiating and then heating clear crystals.
Topaz is the hardest silicate mineral and one of the hardest minerals in nature. Topaz crystals can reach incredible size of several hundred pounds. Topaz can make very attractive mineral specimens due to their high luster, nice colors and well formed and multifaceted crystals.
Topaz may be colorless, yellow, orange, red, blue and green.
Element:
Fire
Ruling Planet:
Jupiter
Life Pursuit:
To live the good life
Vibration:
Overly expressive - frequent burnouts
Secret Desire:
To make a difference in the world.
Description:
Ruled by the benefic planet Jupiter, Sagittarians possess a natural exuberance, sense of adventure and love of life that makes them one of the most optimistic zodiac signs of all. Like their astrological symbol - the Archer - Sagittarians are renowned for aiming their sights towards whatever it is they find alluring - a love partner, dream job, vacation - and making it their own. They believe that anything is possible - and because of this belief system, Sagittarians are adept at seeking out their very own pot of gold at the end of the rainbow.
But sometimes trying to tie down these free-spirited individuals is frustrating for those around them. Sagittarians are happiest on the move - exploring new cultures and ideas and many are attracted to occupations related to travel, the media, outdoor work and philosophical pursuits. In love, their catch-cry is "don't fence me in". But once they find a partner who understands their need to retain their own sense of self and identity, Sagittarians can be the most big-hearted, generous and fun-loving companions of all.
Freedom loving, optimistic and honest, Sagittarians are ruled by Jupiter, the planet of abundance and higher learning. The wisdom of Jupiter imbibes Sagittarians with an inherent need to develop their own unique philosophy of life. The Centaur is their astrological symbol, and it gives many insights into the Sagittarian personality. The higher-evolved Sagittarian learns to integrate the two ends of the Centaur (half-human, half-beast) in order for their arrow (another Sagittarian symbol) of higher aspirations to be more on the mark. Although they are intellectually and spiritually advanced, Sagittarians are notorious for their lack of tact. In relationships they demand independence, but when in love, it can't be denied that they are one of the most big-hearted signs of the zodiac.