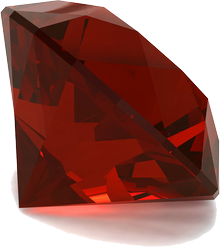 Aquarius Birthstone:
Garnets are the modern birthstone for January. They are the Zodiac birthstones for Aquarius, and an alternate for Capricorn. Garnets are given on the 2nd and 6th anniversary. Garnets are associated with strength, perseverity, prosperity, and health.
As a gemstone, garnets have had a mixed reputation. Garnets do possess high indices of refraction, are hard enough, have pretty colors, are wonderfully transparent, lack cleavage and are durable; thus making good candidates for gemstones. However, many people consider garnets to be inferior to other colored gems. This may be due to garnet's relative abundance and widespread use, and therefore a (typically) low price. Garnets are greatly variable in colors and varieties, though, and many of these are both rare and beautiful, producing genuinely precious gemstones. Some garnets are truly unique in the mineral kingdom and have much to offer as both gemstones and mineral specimens.
The main differences in physical properties among the members of the garnet group are slight variations in color, density and index of refraction.
The most common crystal shape for garnets is the rhombic dodecahedron, a twelve sided crystal with diamond-shaped (rhombic) faces. This basic shape is the trademark of garnets, for no other crystal shape is so closely associated with a single mineral group like the rhombic dodecahedron is with garnets.
Most garnets are red in color, leading to the erroneous belief that all garnets are red. In fact a few varieties, such as grossular, can have a wide range of colors, and uvarovite is always a bright green. As a mineral specimen, garnets usually have well shaped and complex crystals and their color and luster can make for a very beautiful addition to a collection. At times, garnets are accessory minerals to other valuable and pretty gem minerals such as topaz, beryl, tourmaline, vesuvianite and diopside making these specimens extra special.
Element:
Air
Ruling Planet:
Uranus
Life Pursuit:
To understand life's mysteries
Vibration:
High frequency
Secret Desire:
To be unique and original.
Description:
Special note for Aquarians: With the new Millennium heralding the Dawn of the Age of Aquarius, at this time, ready or not, your sign is regarded as the zodiac's leader. You are the trendsetter for the future and because of this high responsibility, many under born your sign will be undergoing at this time, as we approach the Millennium, the pressure of personal change (particularly in your values and what makes you content and happy). Yours has always been a philanthropic sign. Now more than ever these qualities will be highlighted.
Those born under the sign of Aquarius not only march to a different drummer, they make up new music as they go along. They are 'mind oriented' individuals, whose thoughts never stop tick-tocking over. Because of their high focus on intellectual exploration, many inventors, eccentrics and highly original trailblazers are born under this sign. Their intense ability to live on many mental levels, holds both pain and pleasure for Aquarians. For example, in the American Hall of Fame there are more Aquarians than any other sign, yet statistics reveal that in mental institutions there are more Aquarians than any other sign too. Many extremes can surround this sign and these extremes can take them to both heaven and hell.
But in everyday terms, most Aquarians are extremely humanitarian and often involved in social programs that assist others. They can also be objective in judgement, for they never let their emotions get in the way. Outgoing and amiable, Aquarians attract friends wherever they go and those whom Aquarians befriend have their unswerving loyalty.
Aquarians are the zodiac's most mysterious and unusual people - and no two are anything alike. Those born under this sign - ruled by innovative and non-conformist Uranus - march to the beat of their own drum. They see life in a different way. Others quite frequently think their habits and ideas are eccentric or crazy in some way, but it is this uniqueness that makes them so special. The Aquarian mind is extremely quick and they never seem to stop thinking (it is interesting to note that many born under this sign suffer from insomnia.) Aquarians usually have strong political, environmental or social beliefs. But whether it is a relationship, career or cause - Aquarians are happiest when they have "something" to believe in and nurture.